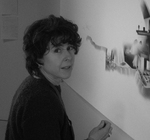 Charlotte Schulz was born in Massillon, Ohio, and studied art as an undergraduate at Kent State University. She attended Skowhegan School of Painting and Sculpture in the summer of 1992 before graduating from the University of South Florida with a Master of Fine Arts degree.

Schulz's sense of dislocation after her move from Ohio to Florida in her early twenties provided the impetus to investigate the place in which she found herself both physically and psychologically. She began painting suburban narratives, situated in the backyard, that were extremely ordered and pristine. While in graduate school, reading Gaston Bachelard's The Poetics of Space deepened her realization that architecture, particularly houses, provided an effective vehicle for exploring past memories and charged emotions. Her paintings of this time depict cut-away views of houses with labyrinthine interiors.

After another move—to Boston in 1998—Schulz found herself without a studio; thus she shifted from painting to making drawings on a small scale in charcoal. Although she continued rendering scenes connected to personal experience, her love of reading and exposure to new ideas began to filter into these pictures as well. She culled images from poetry, particularly that of Wallace Stevens and Robert Kelly, and began using images from art history as source material for her work. In these early drawings, the houses give way to a more organic sense of space in which both inside and outside are laced together to render a world infused with mystery and portent.

Schulz relocated to Brooklyn in 1999, continuing to paint and draw, but she turned increasingly to charcoal on paper, which came to dominate her practice. As her drawings evolved, their content dealt with the interplay between the visible and less visible aspects of reality. During this time, the writings of Jung, Hillman, and Leibniz played an important role in shaping her thinking.

Reading remains an important part of her artistic process in that it has become a way of both generating images and collaborating with the history of ideas and stories from the past. Most recently, Schulz has turned from single-image drawings to multiple-panel ones, and her formal concerns have concentrated on exploring the tensions between real space and illusionist space and on the sculptural potential of paper.

Charlotte Schulz is a recipient of individual artist fellowships from the John Simon Guggenheim Memorial Foundation in 2010-2011, the Pollack-Krasner Foundation in 2005-2006, the New York Foundation for the Arts in 2017, 2009, and 2002, the Aljira Center for Contemporary Art in 2003, the State of Florida in 1996, and the Skowhegan School of Painting and Sculpture in 1992. Notable group exhibitions include Vocabularies of Metaphor: More Stories, Hosfelt Gallery, San Francisco, CA; Dark Poets, Maryland Institute College of Art, Baltimore, MD; ARCHI+TEXTURE, Brooklyn Fire Proof, Brooklyn, NY; underCURRENT/overview, Tampa Museum of Art, Tampa, FL; and Featuring Florida, The John and Mable Ringling Museum of Art, Sarasota, FL. Her solo exhibitions include The Uneven Intensities of Duration, Smack Mellon, Brooklyn, NY and Wake Forest University, Winston-Salem, NC, An Insufficiency in Our Screens, Aldrich Contemporary Art Museum, Ridgefield, CT and Mills College Art Museum, Oakland, CA. Schulz's work is included in the permanent collections of Mill College Art Museum, The John and Mable Ringling Museum of Art, and the University of South Florida.

Schulz currently resides in Peekskill, NY and maintains a studio there. She teaches at Parsons The New School for Design and is a museum guide at Dia:Beacon.